quali-v®
Quali-V®, the first plant-based capsule developed for the pharmaceutical industry as an alternative to gelatin capsules, especially for drug development and hygroscopic formulations.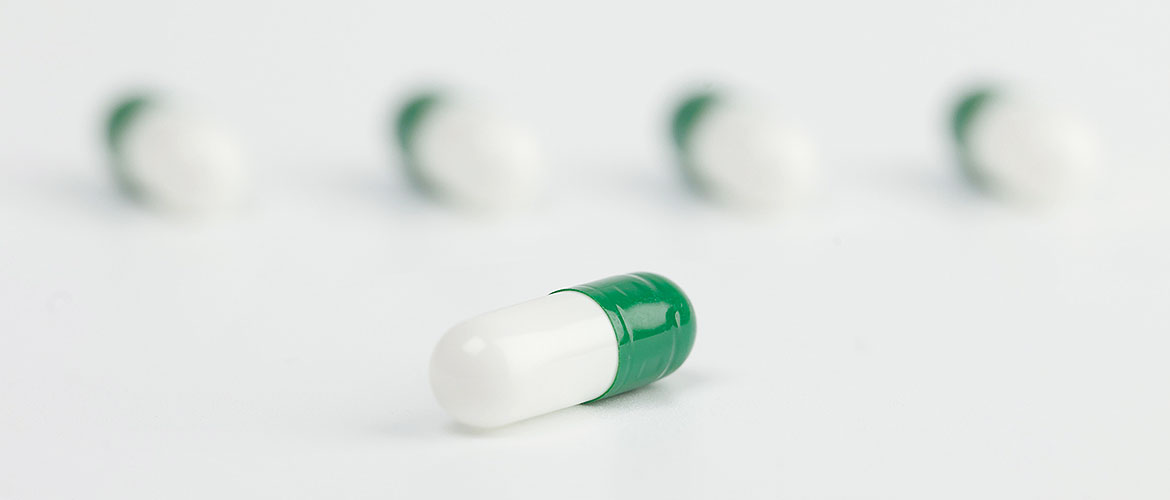 FEATURES OF QUALI-V® CAPSULES
Quali-V® capsules, made of hypromellose (hydroxypropyl methylcellulose, or HPMC), are specifically designed for oral pharmaceutical applications where gelatin capsules are not the optimal solution for encapsulation. For example, as HPMC capsules have an equivalent dissolution profile to gelatin capsules, they are better suited for hygroscopic products and formulations that may react chemically with gelatin. Quali-V® does not undergo any changes in physical and chemical performance throughout its shelf life; all parameters meet the required specifications during stability studies.
100% plant-based and preservative-free, Quali-V® is acceptable for consumption within certain dietary and religious limitations. Quali-V® also responds to the clean label movement among today's consumers.
The GMP-compliant manufacturing process of Quali-V® is carried out following strict pharmaceutical criteria and certified according to ISO 9001 and 14001. Drug Master Files for the US and Canada have been registered. Quali-V® capsules are continuously monitored by Quality Control experts in the production process, and are also inspected using an automatic camera system to detect and remove defective units.
Available in a wide range of color and pharmaceutical-industry standard sizes, ranging from 9 (for early trials with rodents) up to 00 (the largest used in human medicine), Quali-V® capsules can be further customized with printing (axial, radial and laser options available), which also functions as an effective anti-counterfeit measure.
Quali-V® capsules have the required dimensions and strength that enable them to be filled and packaged on automatic high-speed machines. For inhaled drugs, Qualicaps® offers Quali-V®-I capsules, which are specifically designed for use with dry powder inhalers. (Quali-V®-I)
Quali-V® capsules, superior properties for hygroscopic drugs
HPMC capsules demonstrate
better performance
than gelatin in
terms of brittleness
; the
moisture content
of Quali-V
®
,
lower
than that of gelatin capsules (4.0%-6.0% vs. 13%-16%, respectively), can be reduced minimizing significantly the occurrence of brittleness that takes place when drying gelatin capsules below a certain threshold (~11% moisture content).
(Figure 2)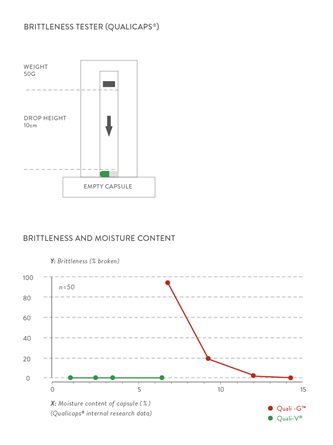 The
physical stability
of Quali-V
®
is maintained
when filled with hygroscopic materials or are exposed to low relative humidity conditions. They also
hold many types of formulations
: powders, pellets, tablets, semi-solids and non-aqueous liquids. More resistant to breaking and fracturing at very low relative humidity, as well as more elastic and superior de-blistering performance make Quali-V
®
capsules the ideal option to safeguard encapsulated products during long-term storage, even in less than ideal conditions.
For further information, download the Quali-V
®
Scientific Review
(Scientific Reviews)
and the
Quali-V
®
Technical Manual
(Technical Manuals)